Social Security disability benefits are for people who become disabled, and, as a result, can't work. However, before applying for them, you should know how they work and how you can qualify for them.
Here are answers to some common questions that will help you learn more about Social Security disability benefits:
My doctor says I am disabled. Is that enough for me to qualify for disability benefits?
No. You will not get disability benefits because your doctor says you are disabled.
How does Social Security decide that I am disabled?
Social Security has a strict definition of disability. To be found disabled:
You must not be able to do any substantial work due to your medical condition(s);
Your medical condition(s) should have lasted, or likely to last at least 1 year, or likely to result in your death.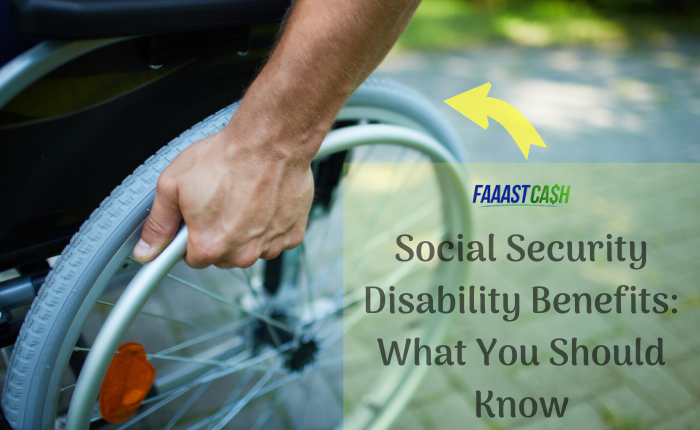 If Social Security decides that I am disabled, what disability benefits can I receive?
Social Security pays disability benefits under two programs:
Social Security Disability Insurance (SSDI) is for insured workers, their surviving spouses (disabled), and children (disabled prior to age 22) of disabled, retired, or deceased workers.

Supplemental Security Income (SSI) is for people with little or no income or resources.
I am getting disability payments from my job or another source. Can I automatically get Social Security disability benefits?
No. Social Security disability benefits are different than other programs. For example, Social Security does not pay benefits for partial disabilities.
What can I expect during an appointment to file for Social Security disability benefits?
A Social Security representative conducts the interview with you and completes your application for disability benefits as well as an Adult Disability Report. The interview will take place either in your local Social Security office or over the telephone. You should plan for a minimum of 1 hour, but usually, it takes longer.
What should I do to speed up the interview process for Social Security disability benefits?
You can reduce your interview time by starting the process online. Complete the application for disability benefits and the disability report on www.socialsecurity.gov/applyfordisability.
You still need to keep your scheduled appointment with your local Social Security office so that a representative can review your information. If you do not have access online, you can complete the Medical and Job Worksheets and bring them to your appointment. You can also speed things up by bringing all the information listed on the checklist found on the Social Security website.
How does Social Security make the decision?
Social Security sends your application to your state agency that makes disability decisions. The state has medical and vocational experts who will contact your doctors and places where you have received treatment to obtain all your relevant medical records.
Your state agency may send you some forms to complete or request you to have an examination or medical test(s). If your state agency does request an examination, make sure you keep your scheduled appointment. You will not have to pay for any examination or test that is required by your state agency.
How long does it take to get a decision from the Social Security office?
Generally, it takes between 3 to 5 months before you get a decision. However, the exact time depends on how long it takes to obtain your medical records and any other information required to make a decision.
Will my personal information be safe and secure?
Yes. Social Security protects the privacy of every individual we serve. As a Federal agency, Social Security is required by the Privacy Act of 1974 to protect all information received from you.