Payday Loans with No Credit Check: Where to Find Them?
In times of short-term financial emergencies, you look for a helping hand that can provide you cash immediately. We have good news!
Same day loans no credit checks can cover you in these situations by helping you get over a cash crunch or emergency situation. Payday loans do not require any hard credit inquiry which means you get access to cash even if you have bad credit.
What Are "Payday Loans with No Credit Check?"
Payday loans are short-term cash advances that allow you to borrow to meet your emergency cash needs, like car repair loans and medical expenses. With most payday loans you need to repay the borrowed amount quickly, or on your next pay date.
Most payday lenders do not require any hard credit inquiry from the traditional credit bureaus (TransUnion, Equifax, and Experian). That's why most lenders advertise "no credit check" payday loans. However, don't be misguided as some lenders can still perform a soft check on your credit from outside the traditional sources, but it is rare that there is any impact on your credit score.
Where Can You Find a Payday Loan with No Credit Check?
You can get a no-credit-check-payday-loan either online or from a lender in your local community. The latter option involves the hassles of driving from store to store, shopping for rates, and spending time and money burning gas. The online payday loan process at FaaastCash is extremely easy, secure, and simple and requires only a few minutes of your time.
How Do These No Credit Check Online Payday Loan Work?
Getting a payday loan without any credit check is extremely easy with FaaastCash. We keep the entire process online, involving a few clicks and a phone call. And, it requires just 15-20 minutes out of your busy schedule. Here's how it works:
You complete a short request form requesting a no credit check payday loan on our website
Your loan request is referred to over 100+ lenders
Interested lenders contact you online (sometimes on the phone)
Both parties agree on loan fees and payment terms
Money is transferred to your bank account the next business day
The entire process is fast, safe and secure, and can be performed even from your smartphone or tablet. Not everyone is approved but we are proud to say that over 80% of applicants are contacted by a lender interested in lending to them.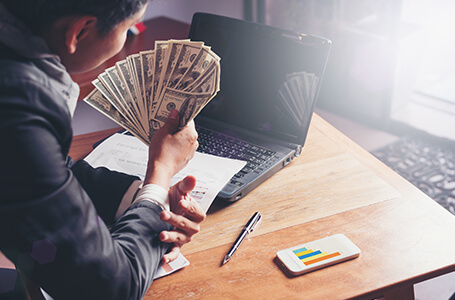 Are No Credit Check Online Payday Loans Safe?
As a rule of thumb, a payday loan is "safe" if you can make the required repayments and the lender is licensed to operate in your state. When applying for a payday loan online, follow these guidelines:
Stay away from foreign lenders who operate from offshore and are not bound to follow the laws that protect consumers in the United States.
Check if the service provider's website is SSL encrypted; look for an "https" at the start of the URL and a green padlock on the left side of it. It ensures that your private information is as secure as possible.
Read the privacy terms on the website to ensure they do not sell your personally identifiable or private information to any third party, like banks or other lenders.
Online loans for bad credit
Online lenders usually use alternative credit data and advanced analytics to make lending decisions, which helps them serve everyday people who may not qualify for more traditional credit opportunities. So, online lenders are a popular destination for customers with less-than-perfect credit. FaaastCash is one company that is focused on helping anyone with poor or bad credit to get "bad credit loans." Our direct lenders are often able to provide loans to customers who have difficulty obtaining funds from traditional sources.
Can I get an online loan with no hard credit check?
The short answer is YES. Hard credit checks are those done by checking the big 3 credit bureaus and seeing your FICO scores. They also reduce your credit scores by doing a check. These are called "hard" credit inquiries. FaaastCash only performs "soft" inquiries that use alternative sources of information, so applying with us will not affect your credit score. Our lenders are most interested in your recent and upcoming income as it is the best indication of your ability to repay your loan. Your FICO score do not help in this evaluation.
And our direct payday lenders know that more than half of all loan requests will be from everyday people who have had some credit problems in the past.
What sort of loans have no credit checks?
Payday loans and some cash advances have no hard credit checks. These loans are all short term loans in most cases and are often only a month or less in length. Online payday loans no credit check are due on your next pay date in most cases.
Other types of loan could be auto title loans, student loans, and even some credit cards.
What is a soft credit inquiry?
Online direct lenders perform a soft credit check in many cases prior to providing a loan. A soft credit inquiry does not count on your traditional FICO credit scores.
Guaranteed payday loan approval no credit check?
Online loans are often advertised "guaranteed loan approval no credit check" which suggests that you will be guaranteed a loan. This can be misleading and common sense should tell you that this is not going to happen. There are no "guaranteed" loans of any kind.
How fast are payday loans funded?
After you complete and submit your online loan request on FaaastCash, we will check many online direct payday lenders which increases your chances of getting a fast loan with bad credit. Approved loans are funded in 1 business day.
FAQs
Who can get no credit instant loans?
Anyone can apply for a loan with no hard credit checks. As long as you are a US citizen, over 18 years of age, and have income for the last few months. You also need a permanent address and a checking account.
Do I get payday loan instant approval?
The application process is quick and easy, and the decision to loan or not to loan is virtually instant. Keep in mind that "instant" means you get an answer in less than 90 seconds after submitting your request. However, funding of your loan if you were approved is the next business day.
Is it difficult to get a payday loan with no credit?
It can be difficult to get a bank loan with very bad credit (poor credit is easier). No credit can be viewed as having the lowest score possible. The lower you scores the less likely you will be approved even for online payday loans. But there are approvals for some. Each person's circumstances are different, and you may still qualify for a payday loan.
Payday loans online no credit check instant approval, yes?
Be careful when you see the words "instant" and "no credit check". First, instant may make you think that the process happens in a second, but it does not. The process is extremely fast but not instant. Second, 'no credit check' may infer that even soft credit checks will not be done. This is not true. Soft checks are often done but not hard credit checks.
Do direct payday lenders have employment verification?
Most direct payday lenders will not contact your employer and only perform soft credit checks. They can usually verify your employment income from your bank statement or through a soft credit check that does not impact your credit scores.
Where can I find small payday loans online no hard credit check near me?
Look no further! Don't bother driving around to find one store after another. Apply online, receive an instant decision and you may be able to get your funds the same business day if approved before 10 a.m. EST Monday – Friday. Most loans that are approved are funded the next business day.
What is a hard credit check?
The banks and other institutions conduct a hard credit check when they look at your creditworthiness. They are reviewing your credit scores and credit past. This will be the basis of how much of a risk you are as a client if the bank lends you money.
Am I guaranteed a no credit check loan?
We must say that approval is never guaranteed. However, our track record has shown than more than 80% of loan requests are successful. We are set up to help you in your time of need and do our best to get you a loan for your emergency needs.