How to Get Cash Advances Loans with Bad Credit in 2022?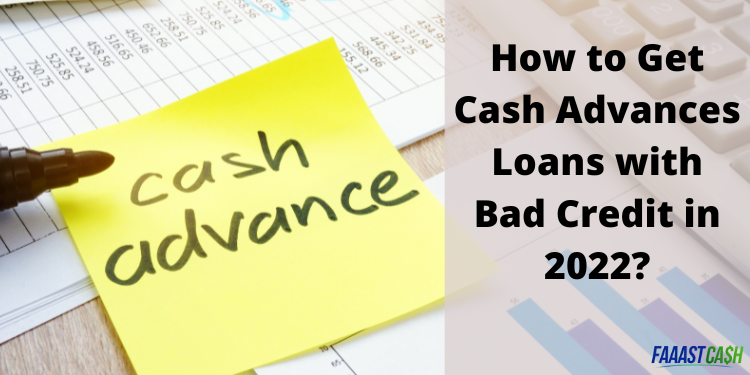 Everyone has tough times and can find themselves in a cash shortage situation. Many people have poor or bad credit and cannot use traditional methods (like a bank loan). There are several alternative options available.
Cash Advance Loans for People with Bad Credit
Cash Advance Loans (also called payday loans) are small loans with repayment terms that vary based on state law but, in most cases, are repaid on your next pay date or within one month. These loans are simple and easy to qualify for, even if your credit is poor. However, their charges are quite high sometimes.
Costs associated with these loans are flat fees based upon the amount you borrow. Direct lenders for these loans do not perform hard credit checks but rely on other data to determine your eligibility. Most often, your current income is the deciding factor as it is the best indicator of your ability to repay the loan. Not everyone qualifies, but most people do.
Bad Credit Installment Loans
The difference in this type of loan is you have a longer period to repay the loan, which is often 6 months or more. These loans are harder to qualify for and may check your credit scores before approval. If you qualify, you will probably pay less than a payday loan. Most states fix the APR for these loans at 36% or less (same as most credit card APRs).
Cash Advances Using a Credit Card
A few cards focus on people with credit issues, for example, the Surge Mastercard. They accept people with credit issues, and you are guaranteed at least a $300 limit if approved. The fees can be high, but it is a good way to start rebuilding your credit if it is in bad shape.
Use Your Cash Advance Carefully
No matter what you do, use your online payday loan wisely. A cash advance with bad credit can be a lifesaver or an anchor. Bad credit loans should only be taken if you are confident you can repay them on the date provided on your loan. Never take out such a loan if you do not feel certain you can make the payments.
How to Request Cash Advances Online?
You complete a short, secure, online form and submit it. Get an answer in seconds. You are connected directly to your lender to review your terms and conditions if approved. If you agree, you get your loan funds in your bank account in one business day.
The process can be done 24/7 and 365 days a year. Need cash now?
FaaastCash has been connecting direct lenders and people in need for years. With over 100 direct lenders, we work hard to give you the best chance of getting your request approved and funded.