How to Keep Yourself Protected from Coronavirus Scams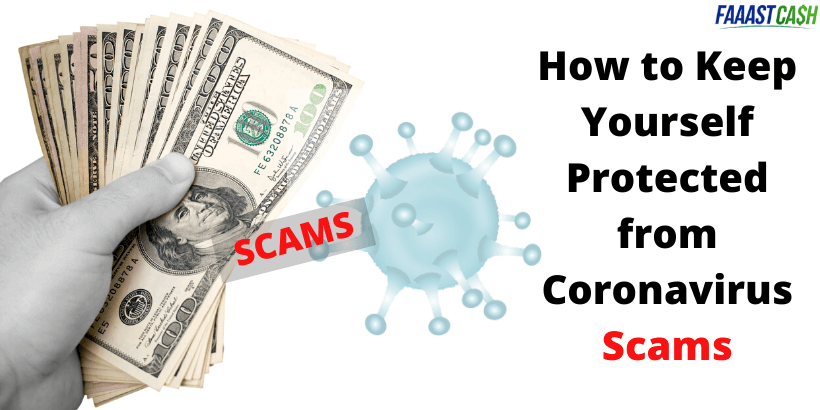 In recent reports, there have been many new scams aimed at getting money from victims. In fact, these same reports from law enforcement say there is an explosion in scams and cybercrime related to the coronavirus outbreak. There are things you can watch for and actions you can take to avoid falling prey to a scam.
Here are some recent scams you should look out for:
1.Threats to Your CARES Stimulation Payment
The Coronavirus Aid, Relief and Economic Security Act, called CARES, has a vital component of sending stimulus checks for qualified Americans. Criminals are eager to steal your cash. Here are some of the recent methods to watch for:
Do not respond to texts, emails, or calls that say they are 'from the U.S. government' and need your banking information to deposit your stimulus check. The government would never do this. In most cases, they direct deposit because they have the bank information. If not, there is a secure portal for you to enter your information if you wish a direct deposit. If not, they are mailing the checks to you. The government will never ask you to provide this via text, email, or on the phone.
Related to this, never download and open attachments requesting personal information so you can get your stimulus check. It's a scam!
Never download apps on your phone that claim to get you stimulus checks faster. There is no such process.
2. Fake Coronavirus-Related Charities
Numerous charities and crowdfunding campaigns have started up recently to help first responders and medical caregivers. Americans are very giving and want to help whenever they can. But before you get caught by a scam, consider some of the following:
If you don't know the charity…pass until you can verify it is a quality charity that will use the funds for the purposes they state. If unsure, don't donate.
Never donate over the phone. Scammers love to call direct and ask for a donation pledge and then ask for your credit card information that they use to steal from you.
There are fake GoFundMe and other crowdfunding sites that try to appear legitimate. It is pretty easy for scammers to set up a fake fund that looks like it's helping those in need. If you can't verify it is authentic, you should avoid them.
3. Coronavirus Prevention/Treatment Products: Testing Kits, Vaccines, etc.
There are no vaccines for the coronavirus, and none are expected until at least fall or winter of 2020 at the earliest. Similarly, home testing kits are not available. And, there are no air filters designed to remove COVID- 19 from the air in your house or apartment.
You can get tested at your local hospital but should only do so if you have symptoms and then call ahead for directions on what to do. Don't just show up at the hospital.
Anyone contacting you in any way about a vaccine, testing kit, disinfectants, etc. should be avoided.
4. Suspicious Offers to Run Errands or Sell In-Demand Products
A recent scam is to ask for payment in advance for running errands or picking up food. These are direct thefts. Even if you get groceries delivered, you can do it all through the internet – securely.
Ask trusted family members or friends if you have even the slightest of doubt. If no one knows the "company," it is often a scam.
What to Do If You're a Victim of a Coronavirus-Related Scam
Although every situation is different, use your best judgment. Do not be afraid to contact your local police department. In addition, you may do the following:
Contact the Federal Trade Commission and file a claim. They will investigate the issue.
Collect and save any evidence you may have from the situation. If the incident has a negative impact on your credit score, you will need to be able to dispute the error with the credit bureaus.
Change your passwords on your personal accounts. This is a good practice even in the best of times. And, do not use the same password for all your important accounts.
COVID- 19 Complaints by State
Every state has a system to post consumer complaints, and many have adopted special online pages where you can post a complaint related to the coronavirus and any scam you may have been a victim of or any scam that was tried on you even if you rejected it. Remember to report it. Even if you were not a victim, your information might save someone else from falling victim to these heartless scammers.
What You Need to Know
The best protection is to be defensive and take precautions. The state and federal governments recommend the following:
Verify the identity of the company, charity, or individual who is contacting you.
Check websites and email addresses of those offering information, products, or services. Scammers often use addresses that look similar to legitimate ones, for example, using "cdc.com" instead of "cdc.gov."
Be wary of all unsolicited emails offering information, treatments, supplies, or requesting personal information for medical purposes.
Never click on links or open email attachments from unknown or unverified sources. They are usually a virus used to enter a computer and steal financial information.
Make sure you have strong anti-virus software that is up to date.
Ignore all offers for vaccines or treatments.
Check online reviews of anyone offering coronavirus-related products or supplies.
Research all charities or crowdfunding sites soliciting donations.
Be cautious of anyone requesting payments or donations in cash, by wire transfer, or through the mail.
Avoid "investment opportunities" based on claims of stopping the virus.
When in question, avoid these types of situations. Never react quickly. Stop and think about who is asking, where are they from, are they legitimate, can I verify who they are, and so on. Common sense and caution will keep you and your family members from becoming needless victims of these horrible crimes.