Steps to Follow When Your Loan Application Is Declined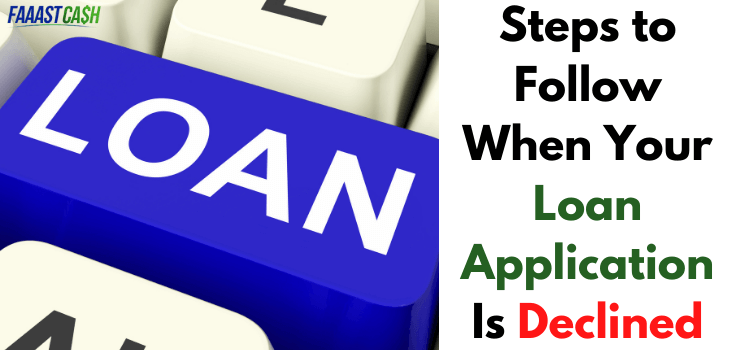 If you're looking for an online loan but were declined, there are various steps where you can re-apply your loan and get approval.
Traditional banks and creditors primarily look at your credit scores, while payday lenders (alternative lenders) will not do so. Instead, they look closely at your current income and other factors. Read on for five steps you can take if your loan application was declined.
First, What Are Payday Loans?
Payday loans are alternative loan options that will accept borrowers with poor or even bad credit. This is because they are small loans with set fees that are paid back in 1 month or less in most cases. They are also called cash advance loans.
How Can You Apply for Online Payday Loans?
The most common form of these loans is online payday loans. Over 80% of all payday loans are done completely online. It is safe and secure, very fast, and you avoid driving around wasting gas and time finding a storefront. Online you can get your loan request viewed by many lenders at one time.
What If Your Loan Application Is Declined?
Review Your Application Details
Some applications are declined because incorrect information was input on the app. This is a common problem. It is always good to double-check all information you provide. Some people accidentally switch numbers for their bank account information, as an example.
Review the Total Loan Amount
If you apply for more than you can afford, your request may be rejected. Remember your income is a key component of your ability to qualify, so the higher the loan request, the more your income becomes a factor. Always request the maximum you could need and nothing more.
Review the Loan Requirements
Every state regulates loans of all kinds, but there are some differences from state to state. Some states do not even allow payday loans of any kind. You can check your state's website to see if you live in one of those states.
Look for Alternatives
This should be your #1 step. Before you borrow, you should always review all your options. These may include asking friends or family for help, open credit balances on credit cards, selling unused items, taking on a part-time, second job, and so on.
Apply Again
Sometimes, people apply when fewer lenders are working, such as weekends and holidays. If possible, always apply on weekdays between about 6 AM and 6 PM EST. This increases your odds of approval. You can always reapply for a loan if you were declined. Changes in time and lending criteria happen almost daily, and it will not affect your credit scores, so why not?
When you need money urgently, FaaastCash can get you the money you need fast. We have been helping people nationwide for many years and are open 24/7 and 365 days a year.