What Is a Penalty APR and How You Might Avoid It?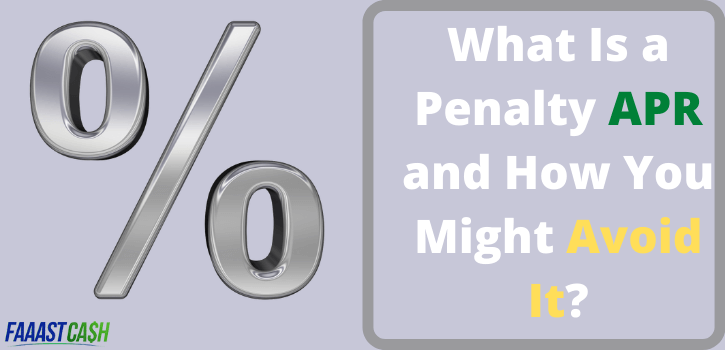 Every one of us faces budget issues time and again, and until we have enough money, it often results in late bill payments.
The result can be a super-high interest rate for paying late, often called a penalty APR or default rate. If you get hit with one of these new rates, they often stay in force for at least six months and sometimes longer.
Most credit cards are issued with penalty APRs. The best action is to pay the minimum amount and get the card paid off if you are hit with one. However, that is easily said but not often done. The next best thing is to quit using the card altogether.
What is APR?
APR means annual percentage rate, the amount your credit card or lender is charging you in interest on a yearly basis. These vary widely and are mostly based on your credit scores.
What to Know about a Penalty APR?
How to Identify the Penalty APR for Your Card
When you first apply for a credit card, the lender must disclose their penalty APR: the penalty rate, what causes it to occur, and how long it will be in force.
You can find well-defined chart-based information about the penalty APR at the top of the card terms and conditions. It is usually a big box and may refer to it as a default rate.
The actual penalty APR is often a single percentage rate, but it may also be a range of rates determined by your credit scores. The penalty APR for most credit cards is 29.99%, the maximum allowed by law.
How Penalty APR's Work
A credit card company can hit you with a penalty APR if you are 60 days late on a payment. They assume you are at a higher risk due to the non-payment and that you may not pay them at all.
The company must give you 45 days' notice before the higher rate goes into effect, which means it could be 100+ days before the new rate. The higher rate can apply to previous balances as well as new charges.
However, the worse part is that it will be in effect for at least six months, and even if you make payments on time, it is unlikely your rate will return to the original one. The company will probably give you a higher rate in the future. This is all the more reason to stop using it, pay it off, and eventually get a new card.
Not All Credit Cards Charge a Penalty APR
Some Discover and Capital One cards do not have penalty APRs if you are in the market for a new card start there, as it is nice not to worry about a big penalty if you miss a payment or two.
Penalty APRs Are Different from Late Fees
Keep in mind that many companies charge fees which is separate from penalty APRs for late payments. Again, you can find that information on your card terms. A $25-30 fee is quite common for missed payments, so it is not cheap.
Will, a Penalty APR, Hurt My Credit?
The simple answer is YES. Creditors report to the credit bureaus, and missed payments are a big part of your credit scores so that you can be penalized in multiple ways for missing your outstandings.
What Is to Be Done While Paying a Penalty APR
Stop using the card
Pay off the credit card balance
Bring the account current
Call and plead your case and request for a reduced APR
Get a new card
One way to avoid a late payment may be to get an online payday loan, which can be requested from a smartphone with connectivity.
FaaastCash has been in business for more than a decade and provides service 24/7 and 365 days a year. When you need online payday loans, consider requesting one with us. With more than 100 direct lenders waiting to review your loan request, you have a great chance to be approved and get your needed cash. Credit score problems are not an issue. Online payday loans are a common way to handle small and emergency payments.