How Do Online Payday Loan Companies Verify Employment?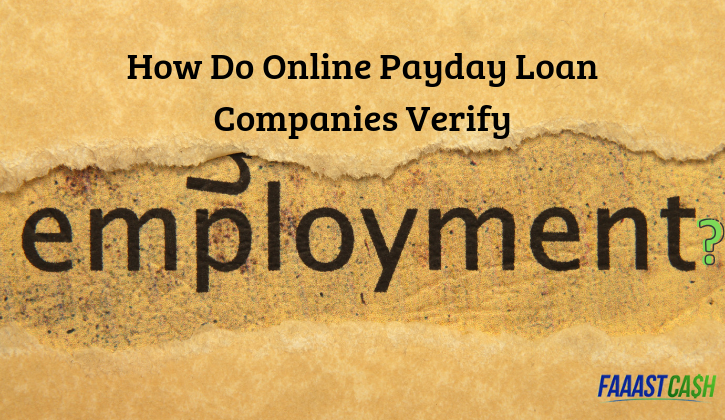 Online payday loans are processed fast but have a few requirements. You need to show that you have a steady income source. To check whether you are getting a regular income, payday lenders verify employment. There are several possible ways payday loan companies verify employment.
We have recapped some of the most common methods of verifying employment:
Paycheck Stubs/Copies
This is a very old method that is rarely used anymore. It's an inefficient way to get information as it usually requires faxing copies of documents. This method is rarely used for payday loans.
Bank Statements
This is an old method that is rarely used anymore. Today, most payday lenders verify your employment by using master databases that tell them there are deposits directly from your employer into your bank account. In rare cases, you may be asked to provide bank statements to confirm your income when applying for a payday loan.
If your bank statement is showing regular deposits into your account, you will often be approved for your loan. Steady employment is one of the biggest factors in getting approval for a payday advance online. Bad credit payday loans are common as your credit rating is not a key factor in getting a loan.
Direct Contact with Your Employer
Direct contact with your employer is a very effective method often used by payday lenders. The lender will contact your employer directly, usually your payroll person or department. This allows for them to confirm your income, your employment, and your residence information all at one time. This can be as quick as a couple minutes on the phone.
This method does require that your payroll staff is aware, in advance, they will receive the call. It is illegal to disclose this information without your prior approval.
Does an Employer Have to Verify Your Employment?
No, this is not a requirement, but it is one method that can be used. Employment is a key factor in getting online payday loans, so verifying it is very important to a prospective lender. This process does require that your payroll department is aware they will be called. Unless you authorize the release of your information (in advance), your payroll staff will not release any information.
Payday Loans That You Can Trust
FaaastCash can refer you to more than 100 lenders and do it fast, securely, and in just minutes. You can use your smartphone and apply in 1-3 minutes and get an answer in 1-2 minutes. With a high approval rate, your odds are best when your loan request is viewed by many lenders. Of course, not everyone is approved, but we do our best to have great lenders who are looking to loan to you right now.
Need emergency funds and cash now? Click here to get started.