How to Deal with Inflation?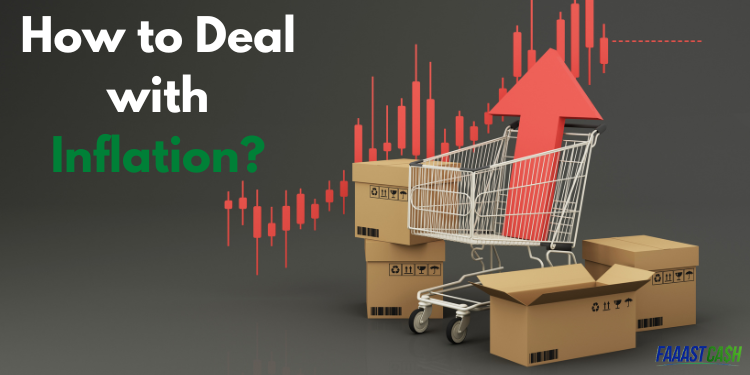 Inflation refers to the price changes in many products and services over time, specifically price increases. It creates a gradual loss of purchasing power, which puts all consumers under pressure from rising prices.
A study says that the Consumer Price Index increased 8.5 percent for the year ending March 2022, following a rise of 7.9 percent from February 2021 to February 2022. It was the largest 12-month advance since December 1981. However, in September 2022, prices had increased by 8.2 percent compared to September 2021, according to the 12-month percentage. To analyse the effects of inflation, you can compare the price of commonly consumed items from one period to another.
Inflation occurs due to an imbalance between the demands and supply of production, increased taxes on products, etc. Unexpected prices on daily used products have the worst impact on consumers as it becomes difficult for people to meet even their basic needs.
Let's learn some ways to deal with inflation:
Dealing with inflation is more difficult than it seems because the price escalation makes it tougher for people to pay for basic goods and services. Some things to consider are:
Keep Investing: Investing outside of your emergency funds will positively affect your savings and might help keep your budget on track and even outpace inflation. Diversify your investment plans to make dealing with financial ups and downs easier.
Find Ways to Reduce Your Expenses: One of the best ways to reduce expenses is to avoid brand consciousness. A study shows that 86% of consumers are emotional about brand buying and appreciate honesty and authority in brands. You can shed brand consciousness by buying home-brand products or non-branded commodities that brand companies often make.
You can go 'unbranded' safely when buying household essentials like floor cleaners, mops, and detergents. Also, avoid unnecessary expenses on items that are not necessary.
Increase Your Income: There are endless options to increase your income. If you have a talent for reselling online, it can be a source of income. You can resell stuff you find at a low price and sell it at double or triple the rate or maybe ten times the actual rate using an effortless technique like adjusting the product. You can also start a part-time job to elevate your income.
You can also consider adding flexible part-time work like delivery services.
Can Payday Loans Help to cover expenses?
Payday loans cover short-term expenses and immediate cash needs until your next paycheck. It covers emergency expenses like medical bills, rent payments, car repairs, school/college fees, personal expenses, etc. However, there are some simple criteria that you need to meet to apply for a payday loan.
If you qualify for a payday loan, your direct lender will send you the amount in one business day. You don't need to waste energy by going to a bank to apply for a traditional loan. You can get confirmation of your request in just 90 seconds or less.
Can Payday Loans help in getting you out of debt?
Payday loans are another form of debt. This means you are not getting out of debt but adding to it just as you would if you got a traditional loan. Payday loans can be expensive, about the same as an expensive credit card.
Already have payday loan debt?
Here are the ways you can get out of payday loan debt:
Try a Debt Settlement Program
Get help from friends or family
Work part-time or overtime
Ask for Extended Payment Plans
Give priority to paying any high-interest debt
Ask for a Paycheck Advance
Look for non-Profit Credit Counselling
Avoid getting new loans of any kind
How Can You Save Money?
Adjusting your expenses according to your budget can be quite challenging. Cutting your expenses anywhere can help combat inflation and save you money.
More ways to save money:
Cut grocery store costs by generic and look for bargains
Cut out coffee and fast food purchases
Save on transportation, carpool if you can, or take a bus or ride a bike
Review your budget regularly and adjust accordingly
Need Help with an Online Loan? Contact FaaastCash!
Experience the fast and secure payday loan process at FaaastCash. We work with many direct lenders to meet your needs. Our large network of lenders is eager to help you fund your loan! Contact us at FaaastCash to get emergency funds with a payday loan.