Installment Loan vs. Payday Loan: Which is the Right Choice?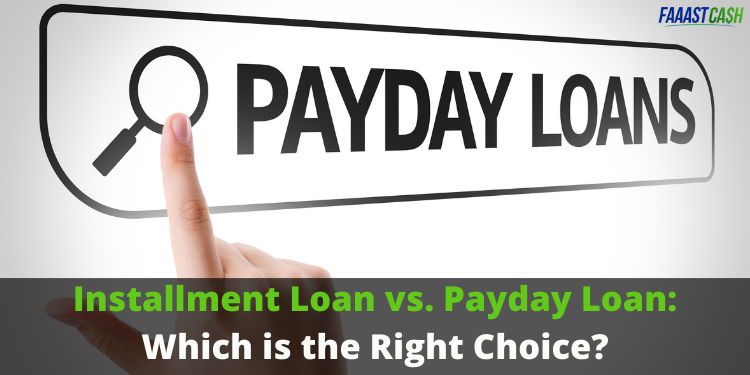 The world of personal finance is complicated. Whether you're looking for a loan to cover an emergency expense or to consolidate debt, there are a variety of loan options available for different needs. When it comes to short-term loans, 2 of the most popular choices are installment loans and payday loans.
Understanding the differences between the 2 types of loans is key to making the right decision that fits your situation. According to research, the payday loans market will surpass USD 42.6 Billion. So, it's important to learn more about these loans to make the right choice for your situation.
What is an Installment Loan?
If you're looking for a loan with a predictable payment plan, an installment loan may be just what you need. With an installment loan, you borrow a set amount of money and repay it in fixed monthly installments over a predetermined period of time, usually 6 months or longer.
Whether you're looking to buy a car, make home improvements, or pay off medical bills, installment loans offer the flexibility you need to manage your finances. They generally have higher interest rates than traditional loans. With a variety of lenders to choose from, finding the right installment loan for you is easier than ever. So why wait? Take the first step towards financial freedom with an installment loan today.
What is a Payday Loan?
A payday loan is like a superhero, swooping in to save the day when you're in a financial emergency. When you need cash fast to cover unexpected expenses or make ends meet until your next paycheck, a payday loan can provide a quick fix. You can easily apply online for these short-term loans and get funds deposited into your account in one business day. Furthermore, you don't even need to have a good credit score as eligibility criteria are easy to meet.
What's the Difference between an Installment Loan and a Payday Loan?
Here are some points highlighting the differences between installment loans and payday loans:
1. Time is of the essence: Payday loans are designed to be repaid in a lump sum on your next payday or within 1 month, while installment loans can be repaid over a longer period of time, usually in monthly installments.
2. Amounts at stake: Payday loans are typically for smaller amounts of money (up to $1000), while installment loans are for larger sums. In fact, most states limit payday loans to $500 or less.
3. Credit checks: Payday loans don't require a hard credit check, making them a popular choice for people with poor credit, while installment loans may require a credit check and may be more difficult to obtain for those with bad credit.
4. Interest rates: Payday loans, even though fee-based, typically have much higher interest rates than installment loans, which can make them much more expensive even though they are very short-term.
5. Flexibility: Installment loans can be more flexible in terms of repayment terms and loan amounts, while payday loans offer less flexibility and are designed for short-term use only.
Which is Better: An Installment Loan or a Payday Loan?
The answer to this question depends on your individual needs and financial situation. If you need to borrow a large amount of money and have the ability to make regular payments over a longer period of time, then an installment loan is the best option for you. However, if you need a smaller amount of money quickly without a hard credit check and can pay it back in two weeks to a month, then a payday loan may be a good option.
In the end, both installment loans and payday loans have their pros and cons, and it's important to carefully consider your financial situation and needs before choosing which type of loan is right for you. It's always a good idea to compare rates and terms to find the best deal for your needs. Most of these loans are done online.
Are Payday Loans and Installment Loans Secured or Unsecured?
Payday loans are typically unsecured loans, meaning that you don't need to put up any collateral to secure the loan. Instead, payday lenders rely on your current income to determine your eligibility for the loan. The loan amount is typically small, and you're expected to repay the loan in full on your next paycheck(s).
Installment loans, on the other hand, can be either secured or unsecured. If you have good credit, you may be able to get an unsecured installment loan, which doesn't require any collateral. However, if your credit score is less than perfect, you may need to put up some form of collateral, such as a car or home, to secure the loan. This is known as a secured installment loan.
Why Should You Apply for Payday Loans at Faaastcash?
If you're considering a payday loan, it's important to choose a reputable company that offers flexible terms, competitive rates, and exceptional direct lenders. That's where FaaastCash comes in. As a leading online payday loan referral service, we connect you with our large network of trusted, licensed lenders who can offer fast, reliable access to cash when you need it most. With us, you can apply for a payday loan online in just minutes, and our network of lenders can offer loan amounts up to $1,000 (depending on state law) with repayment terms that fit your budget.
Apply now and get the cash you need to cover unexpected expenses, bridge the gap between paychecks, or fund an important purchase. Our team is here to help you every step of the way 24/7 and 365 days a year.