What Is the Cost to Repair a Refrigerator?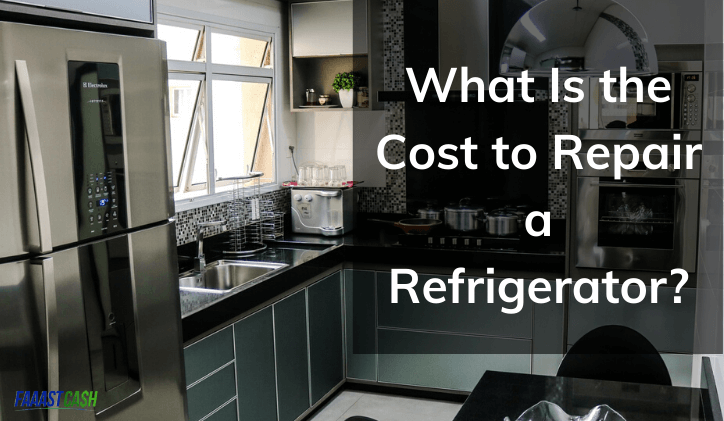 A refrigerator is an important appliance in your kitchen that helps to keep food cold and fresh for a longer time. However, it requires regular maintenance and repairs to stay in the best condition. The cost to repair a refrigerator may vary depending on the type of problem that needs to be fixed, but usually it costs between $200 and $400.
Should You Repair or Replace Your Refrigerator?
Sometimes, it is better to replace your refrigerator than it is to repair it. Consider these three factors when determining whether your refrigerator needs to be repaired or replaced.
1. Age
Get your refrigerator:
• Repaired if it is less than 8 years old.
• Replaced if it is more than 15 years old.
2. Efficiency
Consider replacing your refrigerator if it is increasing your utility bill.
3. Type
The repair cost varies depending on the type of your refrigerator. The cost to repair:
• A side-by-side refrigerator is more expensive if it is more than 5 years old.
• A built-in refrigerator is less expensive if it is less than 5 years old.
Refrigerator Repair Costs
Compressor Problems
There may be problems with your compressor if your refrigerator produces a humming or buzzing sound or if it fails to keep your food cold. The cost to repair the compressor is usually between $20 and $200, depending on the type of problem. Some common compressor problems include:
• Faulty Compressor
Get your compressor tested by a professional if your refrigerator is not keeping food as cold as usual. If the compressor is working fine, something else is causing problems.
• Problems with the Compressor Fan
The compressor fan prevents overheating. If it stops, the compressor will produce strange noises, and your refrigerator will begin to overheat. Get the compressor fan replaced by a professional.
• Noises
The compressor is usually silent. However, if you hear clicking or other strange noises, you may have overloading or start relay problems. It is better to replace your compressor to prevent the build-up of bad gas and high pressure inside your refrigerator.
Other Common Problems
• Defroster
Replace the defroster if it produces crackling, snapping, or popping sounds. This repair can cost between $100 and $200.
• Rattling Sounds
You can find the drip pan behind the kick plate. When water hits the drip pan, it can produce rattling sounds. Empty the pan if there is too much water in the pan and check the supports to ensure they are not damaged. Repairing the drip pan may cost $50 or less.
• Freezer
Replace the evaporator fan motor if it produces strange noises. It usually costs between $200 and $250.
• Icemaker Problems
The icemaker produces noises when water flows into it, which is normal. However, you need to get it checked if you hear unusually loud noises. This repair may cost between $250 and $330.
Don't have enough cash for your fridge repairs or replacement? Request an online payday loan.