Cash Advance Loans Near me
Getting through a financial emergency can be really difficult when you are living pay check to pay check. There can be times when a cash shortfall may prevent you from covering urgent medical, auto, or household expenses. To make things worse, you may even not have the time to find and review all your options. This is where online cash advance loans can be a lifesaver. Cash advance loans from FaaastCash are a convenient solution to meet your emergency cash shortage until your next payday.
What is a Cash Advance Loan?
Often called a payday loan, this type of cash advance doesn't involve a credit card. Cash advance loans involve borrowing a comparatively small amount of fund for a short period (around 2 to 4 weeks) in exchange for a fee. Your credit score is usually not a deciding factor for this type of loan.
Why Would You Need a Cash Advance?
Any unexpected financial emergency like a car break down can be a good reason for requesting a cash advance. You should consider a cash advance loan as a temporary solution to help get you through your cash crunch. Be sure the fees are acceptable to you before you accept the loan. Your lender will advise you of all fees and terms of your loan prior to completing the processing.
Online Cash Advance Loans
When it comes to online lending, a cash advance generally refers to a short term loan that is deposited to your bank account (normally in 1 business day) following your loan approval. If you want to get the advantages of a cash advance loan without the unnecessary hassles of hidden expenses, consider applying for a cash advance loan online.
How to Get a Cash Advance Online
To qualify for an online cash advance loan, you will need to meet these minimum qualifications:
Be 18 years old or above
Have a steady income for at least 3-6 months
Own an active bank account
Have a valid ID proof
Be a U.S. citizen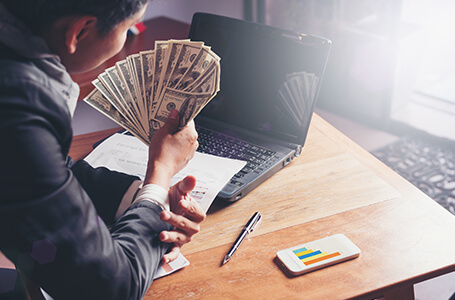 Looking to apply for an online cash advance loan near you? Well, the internet is as close as you can get… your smartphone, pad or PC. The entire loan request process is managed online and only takes 2-3 minutes. Fast, easy and secure. Once you complete the online request process, your loan approval status gets conveyed to you online (or via email in rare instances) and, if approved, your cash gets transferred to your bank account through electronic funds transfer.
Get a Cash Advance Loan from Us!
If you are looking for a cash advance loan near you, contact us. We provide quick and easy online cash advance loans. We have a lender referral network with over 100 lenders who want to provide a loan. All terms and conditions should be discussed directly with your lender.
We accept bad credit, and if approved, you can expect to receive your funds in your bank account the next business day. There is no fee for our service when you apply for a cash advance loan from FaaastCash.