Short Term Payday Loans Online for Bad Credit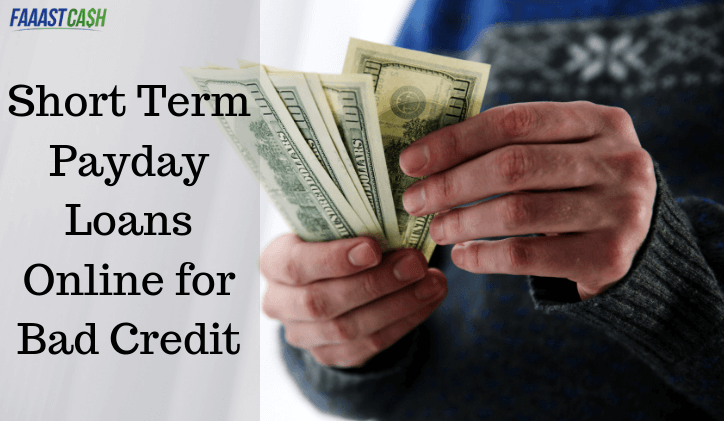 A short term payday loan may also be called a payday advance, salary loan, payroll loan, small-dollar loan, short term loan, payday loan online, or cash advance loan. These loans are unsecured loans that can be given to anyone who has a regular source of income and an active bank account.
What Is a Short Term Payday Loan?
There is no set definition of a short term payday loan. Usually it is a short term, fee-based loan, generally for $500 or less, that is due on your next payday. Depending on your state's laws, payday loans may be available online or through storefront payday lenders.
If I Have Bad or No Credit, Where Can I Request for a Short Term Payday Loan?
For more than 8 years, FaaastCash has helped people with poor credit, or even no credit, get fast cash for emergencies like a medical bill, auto repair, and so on.
We have been providing a great referral source for consumers in need of payday loans online. Many people are unable to get traditional loans from banks due to low credit scores or no credit score at all. These loans are often called bad credit payday loans.
Even with no credit at all, you can request a payday loan online from FaaastCash.com. Lenders we refer you to routinely grant loans to people with bad credit. Over 80% of our customers are approved by a lender for a loan. Terms and conditions vary by lender and by the state you reside in. Always ask your lender what your loan terms and conditions are. You are never obligated to accept a bad credit payday loan offer.
How Do I Request for a Bad Credit Payday Loan?
Your loan request can be completed in just 2-3 minutes using our simple, one-page request form. Once your request is completed, over 100 lenders review it and, if approved, contact you directly in just 1-2 minutes. In most cases, your loan funds will be deposited the next business day (excepting weekends and holidays).
How Much Cash Can I Get from a Payday Loan Online?
Most people can receive a payday loan online for up to $500. In some cases, you may be approved for a larger, installment loan from $500 to $5,000.
Some customers may be approved for a smaller amount based upon their individual qualifications or state laws. You may also visit our website and read more about short term payday loans for bad credit online.
Need cash NOW? Click here to get started.