How the CARES Act May Affect Your Credit Score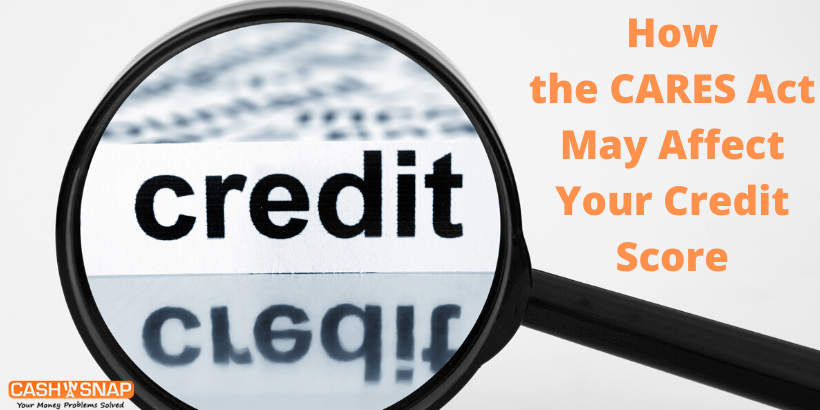 Congress passed a bill called the Coronavirus Aid, Relief, and Economic Security Act, which is often referred to as CARES. The bill was to try to provide relief and economic support to small businesses and individuals who are out of work due to the COVID- 19 pandemic.
Most people have seen the impact of CARES by receiving some of its benefits like $1,200 stimulus check, extended unemployment benefits, student loan payment relief, mortgage payment relief, access to food, and so on.
Others have inquired what impact the pandemic and CARES may have on their credit scores.
How Does the CARES Act Impact Your Credit Score?
The biggest impact is that the CARES Act provides consumer credit reporting agencies with guidelines to follow, as outlined in the Act. The guidelines are trying to limit the long-term effects suffered by those in financial difficulty. By providing protection, the Act can keep negative reports from showing on one's credit report.
How Does the CARES Act Protect Your Credit Score?
Normally, if you have late or missed payments, e.g., a credit card payment, this can lower your credit score. According to the CARES Act, if your finances are affected by the pandemic, you can agree with a creditor to update or change your payment terms, which may include temporarily skipping or reducing payments. As long as you maintain the new terms, you will be able to keep your account current without any damaging impact on your credit score.
However, you must reach out to your creditors, landlords, or any other financial institutions to make an agreement. Each lender may have variable terms, so it is important you contact all your creditors with whom you wish to change terms. If the creditor agrees to new terms, they should provide a new agreement for your records.
One example might be that the landlord you rent from agrees to defer 2 months' rent, but your lease term will be extended by those two months. If it is a credit card debt, the company may agree you do not have to make payments for 2 months with no added interest or penalties, but you will need to restart payments by a specified date.
Are You Eligible for CARES Act Credit Protection?
Most people are eligible for CARES Act credit protection if they have an account with a creditor that reports their information to the major credit bureaus. However, if you wait to have negative or default reports on your credit report before contacting a creditor, you will find it difficult to get those negative reports removed.
Under the law, you must make an agreement with each individual creditor for any planned missed payments. It is important to note that certain federal programs, like college tuition, already have deferred payment terms built into the CARES Act. The same is true for federally backed mortgages.
Do not be afraid to contact any creditor directly. They are reacting to the many requests they are receiving, and most of them have set offers they are willing to make.
Will This Affect Your Credit Score in the Future?
We do not know how long credit reporting limitations/changes under the CARES Act will be in force. The key, as mentioned before, is to contact your creditors and find out what they can do to assist you in reducing or stopping payments for a short time until you can get back to work. If there is an agreement with the creditor, it should not affect your credit scores in the future.
Do you have old debts from before the pandemic? If so, you must realize you are still responsible for those debts. The CARES Act does not address previous debts or late payments. Use your money wisely and make small payments to all debts, especially those previous to the pandemic, and you can reduce or eliminate new negative credit reports. You should still try to make payments whenever possible.
Financial Resources to Help You
Outside of the CARES Act resources and relief programs, there are many state and local services, often at no charge to you, that can help you with advice for consolidating debts, setting up budgets, financial planning, job resumes, and so on.
Check your state and city websites or search online for free resources on financial planning, budgeting, and so on. There are also many great YouTube videos that provide free advice on a wide range of financial and personal budget topics.