What You Should Consider Before Taking Out a Payday Loan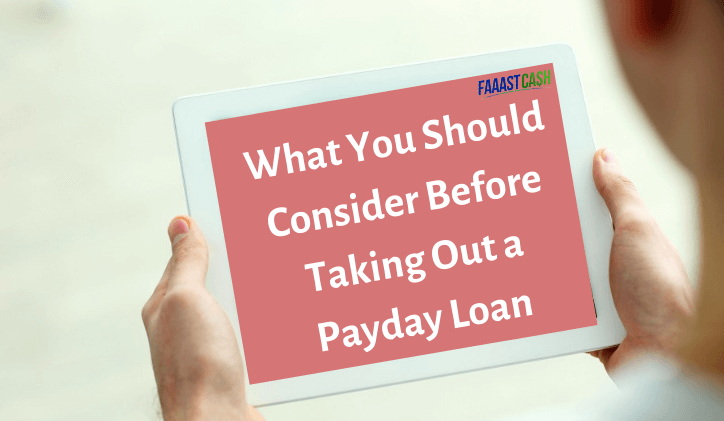 Online payday loans provide immediate access to the cash you need for a financial emergency. However, these are short-term, high-interest loans, and repayment should be done within 2 to 4 weeks. Before you take out a payday loan, make sure you can pay back the loan amount on time and in full.
You must consider some important factors before getting an online payday loan:
1. Purpose of the Loan
Online payday loans are only for borrowers who need cash to solve their financial emergencies. These loans have a short repayment time, and falling behind on payments could damage your credit score. Make sure you take out a payday loan only to pay your emergency expenses rather than unwanted expenses.
2. Payday Loan Regulations
Payday loan regulations are different for each state. You need to understand the regulations of payday loans in your state before taking out a loan. These loans generally have a 30-day term-limit. The amount you get varies depending on the lender and your state's regulations.
However, make sure to borrow the amount you require but not more than you can repay. Otherwise, repayment would be difficult for you. The more you borrow, the more interest you will need to pay back along with your principal loan amount.
3. Determine How Much Money You Need
Lenders have some restrictions on the minimum and maximum amount of money you can get. Before getting a payday loan, you should calculate how much money you will need for your emergency expenses and determine whether your lender can approve that amount or not.
4. Financial Standings
These loans are designed for borrowers with a lower income and who cannot apply for traditional bank loans due to their credit score. Lenders may not rely on your credit score or income amount to process a payday loan request. However, you should consider your financial position before taking out a payday loan to ensure on-time and full repayment.
5. Repayment Duration
The repayment for your payday loan needs to be done at your next pay date. However, if you cannot repay the loan amount in full, you can ask your lender to extend your repayment date. Explain to your lender how much money you can repay each month and request him to extend your repayment date accordingly.
6. Terms and Conditions of the Loan
The terms and conditions of payday loans vary depending on the lenders. As a borrower, you must read the terms and conditions of your loan document and make sure you understand them and are comfortable with them.
Looking for an online payday loan? Get started now!