Payday Loans vs. Cash Advance Loans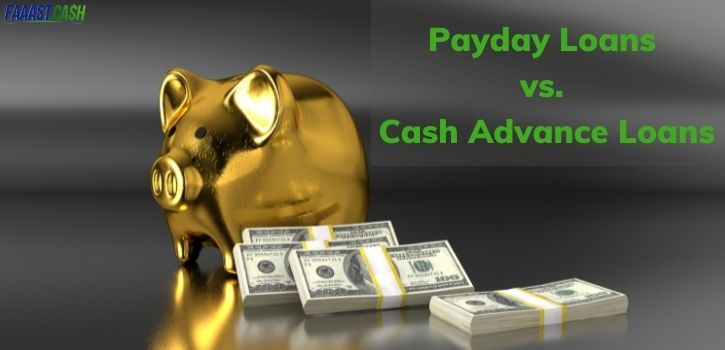 Despite the risks, some consumers see these loans as their only option when in tough financial situations. But more than 45% of all consumers do not have sufficient cash reserves or strong enough credit to use traditional loan services in times of need. And traditional services take weeks or longer to process loan requests.
Payday Loans vs. Cash Advance Loans
Both payday loans and cash advance loans are often considered the same thing, and the terms are frequently interchanged, adding to the confusion. They do have more similarities than differences. Both loan methods are fast and easy to apply for, a high percentage of applicants are approved, and you often repay your loan from your next paycheck.
Depending on state laws, there may be no differences where you live, but in some states, pricing can vary a bit. Most people refer to the high APRs that these services have, but these are very short-term fee-based loans. It is extremely rare for a borrower to go more than a few months to pay back one of these loans. Going a full year paying back the debt is almost unheard of. Why? Most states have enacted laws protecting consumers from extending these loans over and over again. Most states allow 1 rollover (extension) or none at all. Also, many states have capped APR for these types of loans to the maximum allowed for credit cards, which is 29.99% APR.
Consumer protections are significantly better than they were just a few short years ago.
What You Should Know About Payday Loans
These loans are not meant to be extended or paid back over more than the initial, agreed upon loan term. You should not consider a payday or cash advance loan if you are not sure that you can pay it back when due.
Avoid rollovers or extensions, as you will be charged additional fees, which can add up quickly over time.
Maximum APR Rates for Payday Loans
APRs are controlled at the state level so that the variance in the allowable rates is significant. But over half of all states have low APR limits, and the number is growing. As noted above, many states are moving to cap APR rates to be the same as for credit cards. You can find the rates on your state's website along with the fee caps as well. Almost every state caps payday loan fees between $15 to 30 per $100 borrowed. They also cap the loan amount you can get. Some states allow up to $1,000 as a loan, but many do not allow these loans to exceed $500.
What to Know About Cash Advance Services
Today, there are new, innovative companies offering cash advances by using an app. Two of the cash advance apps, Earnin and Dave, call themselves alternatives to payday lenders, but they are very similar in reality.
They offer cash advances between $100 and $500 like most payday lenders. However, they do require much more personal information than if you requested a payday loan. You must give them direct access to your bank accounts which they use to reclaim the loan as soon as there is money in your account. This can cause some problems as you may need to retain some of that cash for other purposes. There is no effective due date for many of these loans.
There are no direct fees which would seem like a great deal, but they ask for a "tip" for the service, and most people oblige them. These tips replace the set fees of payday lenders and can exceed them as people do not always know what to tip. So far, these apps are not falling under the normal regulations that payday lenders are subjected to, but this could change, as a number of states are considering regulating them the same way as payday lenders.
How to Get Online Payday Loans or an Online Cash Advance
Most people use online services for payday loans and cash advance loans. They can apply quickly, easily, and safely. It usually takes just 2-5 minutes to complete and submit a loan request, and you can get an answer in 5-90 seconds. If approved, you are connected directly to your lender to get your questions answered and to go over the terms and conditions of your loan. If you agree with the terms, you typically get your funds in just one business day.
FaaastCash has been in the business for more than a decade and provides service 24/7 and 365 days a year. When you need online payday loans, consider requesting one with us. With more than 100 direct lenders waiting to review your loan request, you have a great chance to be approved and get your needed cash. Credit score problems are not an issue, and online payday loans are a common way to handle small, emergency needs.